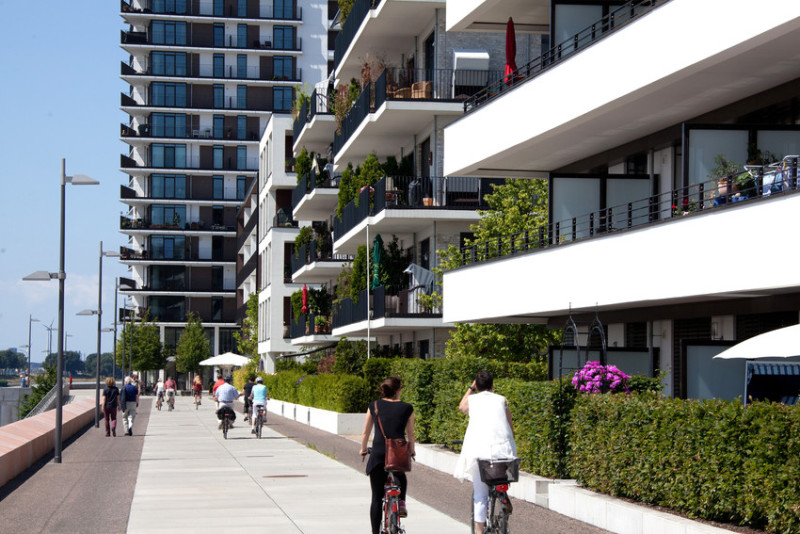 © WFB / Jens Lehmkühler
New urbanity at the port
A new form of urbanity combining work and life has been unexpectedly quick to emerge around the Europahafen basin. The Europahafen is lined with promenades, terraces, restaurants, shops and a marina with modern office spaces. It is also worth noting the extraordinary range of sectors present. The first section of the seaside promenade was completed in 2009 in the northern quarter of the Europahafen. The Europahafen marina then attracted ships back to the port in 2011. There have since been pleasure boats moored at the private jetty, and the public jetty provides space for passenger boats and historical ships. The expansion of the vast promenade, which is now 1.5km long, was then opened to the public in 2012. Its upper and lower sections and width of 16m provide ample space for walking and cycling. However, it also serves a purely practical purpose, as the newly installed sheet pile wall has raised the flood protection line.

Your contacts:
WFB Wirtschaftsförderung Bremen GmbH
Jons Abel
T 0421.9600-613
F 0421.9600-8613
jons.abel@wfb-bremen.de

Dagmar Nordhausen
T 0421.9600-252
F 0421.9600-8613
dagmar.nordhausen@wfb-bremen.de