From 0 to 626
New harbour district
Since the Europahafen marina was opened in summer 2011, Jens Wirdemann has been operating and extending its pier. He now offers 626 metres of mooring space for part-time sailors and their boats.

He finds it hard to believe himself at times, especially when the port isn't as busy and at the end of the boating season. "When we opened the Europahafen marina in 2011, I felt a mixture of joy and admiration", recalls Jens Wirdemann, who operates the Europahafen marina in Bremen's Überseestadt. Is the new city harbour received well by water sports enthusiasts? Has the initial euphoria of part-time skippers since died down? And will the extension work go to plan over the next few years? He could never have imagined being able to offer around six times as much mooring space just a few years after opening the marina…
A dream comes true
Wirdemann says he'd always dreamed of being able to travel into town on a boat. The Europahafen marina has made this a dream come true for him and many other water sports enthusiasts.
He worked closely with Bremeninvest from the outset to plan the facilities. After around one year of development, he was able to implement the plans alongside the City of Bremen and Bremeninvest. A total of 1.2 million EUR was invested at the time. The Europahafen marina is divided into a "public" jetty and a private section run by Wirdemann.
From "Alex" to everyday skippers…
The "public" jetty welcomes the most varied of passenger ships. For example, the "Alexander von Humboldt" was moored there until autumn 2016. The ship, with its on-board hotel and restaurants, had been moored in the Überseestadt for around one year before it was permanently moved to the Schlachte promenade. "The Europahafen marina is an exciting prospect for many skippers, because the 'normal' boats in the private jetty are joined by 'big fish' and the odd yacht or two", says Wirdemann.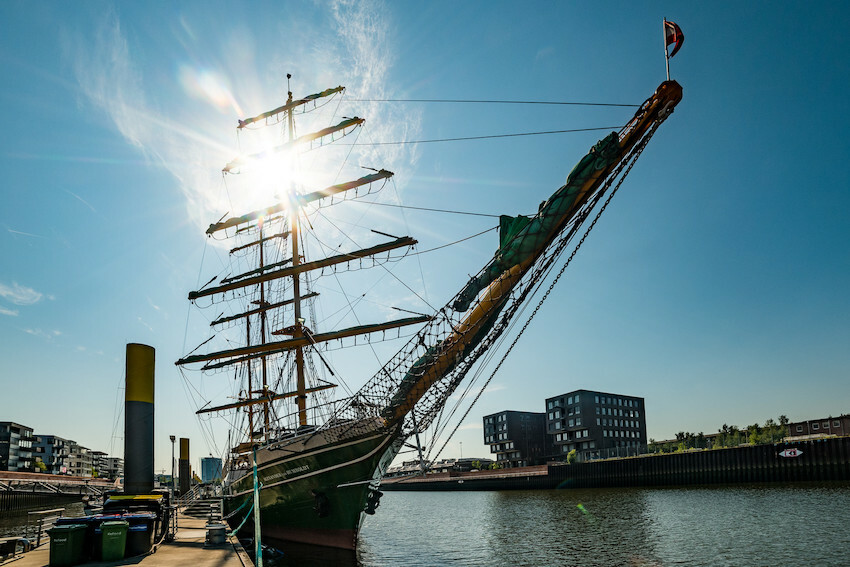 There's always a special atmosphere in the evening…
The Europahafen marina was opened in summer 2011 with a big reveal and a summer festival. The harbour basin has since become a place of "relaxed hustle and bustle", especially in the summer months. "We offer permanent and seasonal moorings, and there's always room for day-trippers", explains Wirdemann. He says there's always a special atmosphere when the sun sets over the harbour basin with the gentle sound of the water against the boats, and guests can enjoy the scenery with a glass of wine on deck. These are the moments when the summer could last forever for Wirdemann and his harbour master, Rolf Denker. "But at the end of the boating season, we always learn to appreciate the quieter periods in autumn and winter", says the trained boat builder with a twinkle in his eye. Wirdemann operates both the Europahafen marina and a boat service.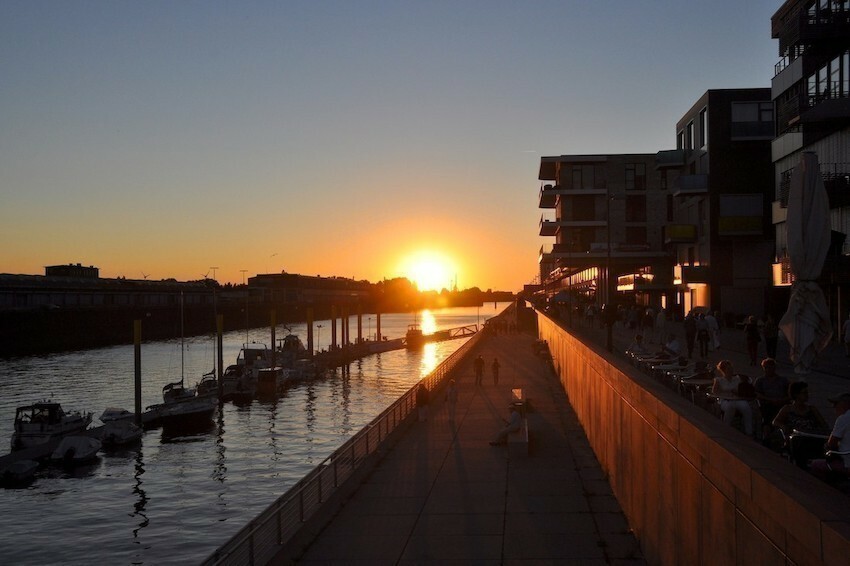 But the end isn't in sight just yet…
Jens Wirdemann started receiving bookings for mooring spaces way before the first berths had been attached to the harbour floor. Boats with a raised mast can easily be moored at the Europahafen away from the current and waves and without being hampered by bridges. "You don't come across a place like this very often", he asserts.
Although Jens Wirdemann hopes for the same degree of success every year, he doesn't want to take anything for granted. But he also knows they've always been booked up so far and have extended their facilities almost every year. "The Europahafen marina was extended by a few metres in 2016 as well – and we needed it too".
The pier had just under 100 metres of mooring space for water sports enthusiasts when it was opened in 2011. The Europahafen marina now measures 626 metres – over six times bigger. The facilities can hold around 90 boats.
The harbour master, Rolf Denker, mainly welcomes guests from neighbouring cities like Bremerhaven and Nordenham who spend the night at the Europahafen during their weekend trips. But the Überseestadt is also a popular destination for sailors from Berlin, Hamburg and the Netherlands.

Boat rental: Water sports for everyone
If you don't have a boating or sailing licence but you'd love to discover the Überseestadt from the water, you can hire little dinghies from Jens Wirdemann and go on a short sailing trip along the River Weser. The Europahafen marina also has two places where part-time skippers can hire motorboats. You can find more information at www.yachtmakler-bremen.de and motorbootvermietung-bremen-hamburg.de