A world of hips and wheelie tables at the Überseestadt skatepark
New harbour district
An inline skater enjoying the skating facilities in Bremen's Überseestadt
…
"Skating is sort of like a religion", explains Ingo Naschold. He's the managing director of DSGN CONCEPTS, and a passionate skater himself. He and his colleagues planned the "street area" of the Überseepark's skating facilities. The final concept was heavily influenced by the wishes expressed by young people during a comprehensive participation process. "Some people want curbs, while others want more transitions between highs and lows". Naschold knows different people's wishes after being involved in several participation processes. He also knows some people take skating very seriously and see their own views as the only way of doing things – just like with questions of faith. He explains that you have to interpret people's views and bring them all together as a compromise for all parties during the planning process.
Harmonie im Skatepark
Aber es ist nicht nur das, was die Arbeit eines Planers für urbane Bewegungsräume – wie Naschold und seine Kollegen es sind – ausmacht. "Früher wurden Skateparks einfach anhand einzelner, nicht miteinander verbundener Elemente aufgestellt. Alles war eher etwas kantig und voneinander losgelöst. Wir planen mittlerweile anders und fügen die einzelnen Hindernisse harmonisch zusammen, je nach Konzept. Daraus entstehen immer andere, individuelle Anlagen", so Naschold. Letztendlich bestünde eine Skateanlage aus geraden und radialen Rollflächen, aufgehenden Körpern und unterschiedlichen Stahlrohren. Das alles muss der Planer stimmig verbinden und zu einer homogenen und interessanten Anlage zusammenfügen – immer wieder anders und an den Wünschen der Nutzer orientiert.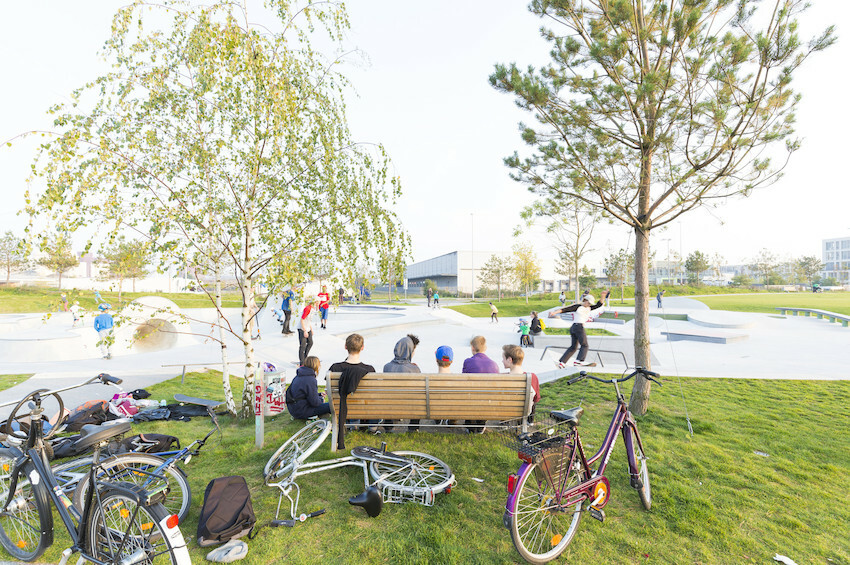 Unique shapes
This was also the case when the street area was opened at Bremen's Überseepark in 2014. The facilities were influenced by lots of ideas gathered at several workshops held with young people from Bremen. The Tteam of planners at DSGN CONCEPTS checked the feasibility of the ideas by interpreting, analysing and evaluating them with their extensive experience. This led to the creation of something unique. "You won't find facilities like these anywhere else. Every location is different, so we model every park to fit in with the landscape. This is what makes all our skating facilities unique", emphasises Naschold.
"A skatepark is a place to exercise and socialise, and its design should be as aesthetically pleasing as possible. We tend to compare it to an actual park: People only like to go there if everything looks inviting and balanced and makes them feel well. That's how everything should ultimately be at a skatepark as well". And it also has to be attractive to different types of skaters and age groups. The facilities at the Überseepark are exactly that: The park is designed for skateboarding, BMX and inline skating, and it's visited by young and old.
Street and bowl area
The skating facilities at the Überseepark have something for all ages and abilities. There's both a street and bowl area. The street area contains obstacles you might find in town or on the street (hence the name). The other area has so-called "bowls" that you can skate along. Following the theoretical planning stage, Naschold tested the street obstacles himself – and was happy with the results.
Skate along the Bremen Key
Naschold and his colleagues work all over Germany. That's why they try and add a bit of each city's "local colour" in every skatepark they plan. The facilities at the Überseepark are no exception, as the key from Bremen's coat of arms has been integrated and can even be skated along. You can see this feature particularly well from the air.
A little skating glossary
Sorry? What on earth is that? A skatepark is not just a couple of ramps and obstacles that you can jump over. The world of skating is a lot more complex and diverse than laypeople might believe. The skating facilities at the Überseepark are obviously no exception, including various skating features that are explained below:
Hips: combinations of ramps positioned at an angle to one another
Wheelie tables: flat, wide and low blocks
Curbs: rectangular blocks
Pools: bowl-shaped, standalone features. The classic pool shapes are kidney and elbow pools
Bowls: combinations of several pools and/or other features
Cradles: over-vert slopes
Transitions: rounded rolling surfaces with ramp elements
Source: "Empfehlungen für Planung, Bau und Instandhaltung von Skate- und Bikeanlagen" ("Recommendations for the Planning, Construction and Maintenance of Skating and Biking Facilities")


You can find out more information about the general development of the Überseestadt and free building sites at Dagmar Nordhausen, Tel.: +49 (0) 421 9600 252, dagmar.nordhausen@wfb-bremen.de; and Jons Abel, Tel.: +49 (0) 421 9600 613, jons.abel@wfb-bremen.de.