New projects on the Überseeinsel
New projects on the Überseeinsel
The 41-hectare site is situated in one of the best parts of Bremen – it's just a stone's throw away from the town square, the Roland and the Town Musicians of Bremen. This key position is what makes the Überseeinsel so important for the city of Bremen and its residents.
The first pilot projects are now emerging in the area where Kellogg's used to process 500 tons of corn into breakfast cereals every day. The investments in this section of the overall site are being made by Überseeinsel GmbH.

Check out the first pilot projects on the Überseeinsel!
One of the first pilot projects on the Überseeinsel involves the former Kellogg's silo.

• Conversion of the former grain silo into a hotel
• Bars and restaurants on the ground floor
• 14 floors
• Gross area: 9,142 m2
• Architects: Delugan Meissl Associated Architects
• Start of planning: 2018
• Scheduled start of construction: 2020
• Scheduled completion: 2025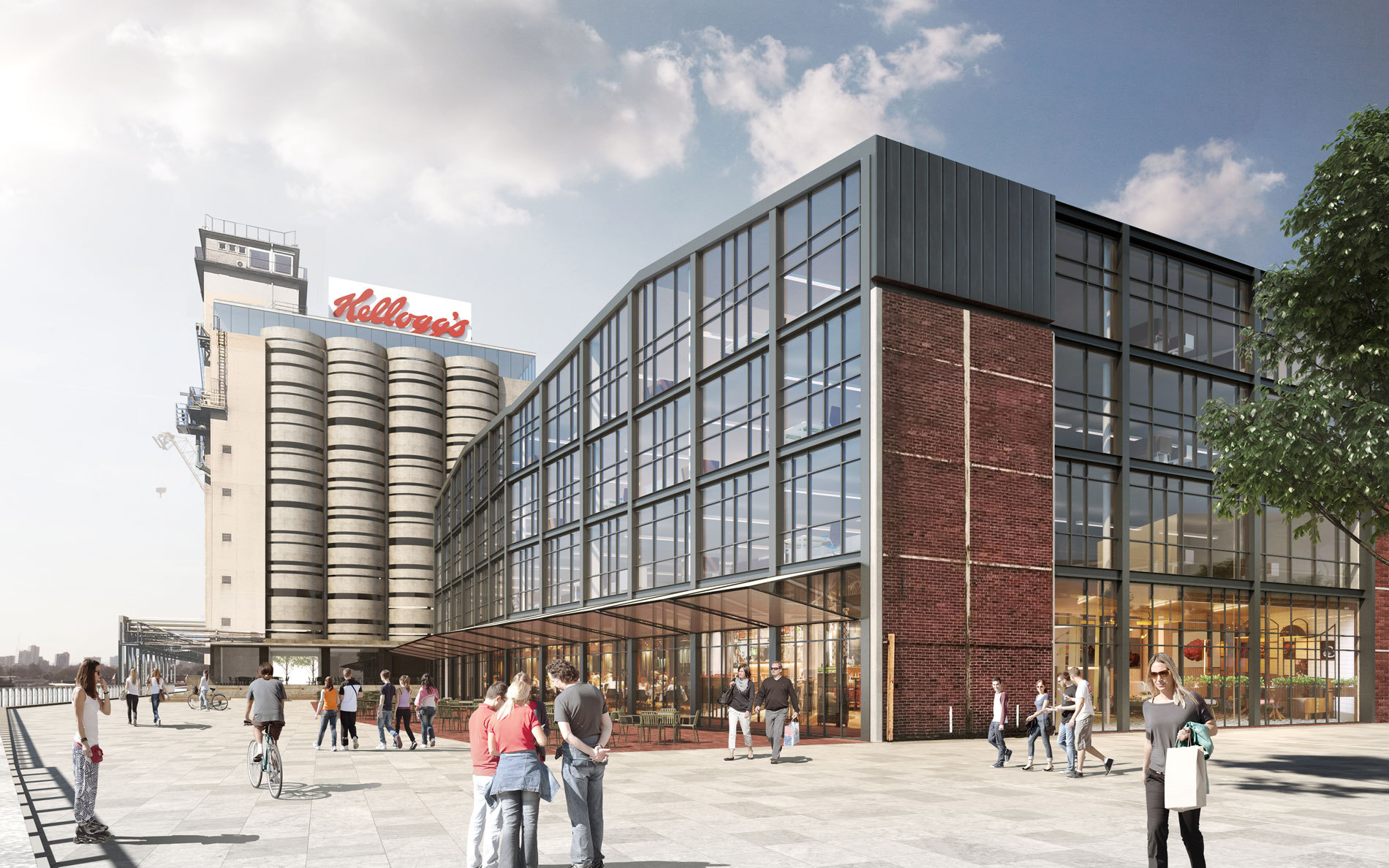 Caption
In addition to various residential properties, the Überseeinsel will be shaped by its public spaces, cafés and bicycle-friendly environment. Some of the existing buildings will be preserved, such as the former silo and rice warehouse: The silo will be converted into a hotel, and the rice warehouse will be transformed into a market hall. The mixture of old and new buildings will create a really nice atmosphere. © Delugan Meissl Associated Architects
Another pilot project on the Überseeinsel involves the former Kellogg's rice warehouse.

• Conversion of the former rice warehouse into a market hall
• Bars and restaurants on the ground floor
• 4 floors
• Gross area: 9,447 m2
• Architects: Delugan Meissl Associated Architects
• Start of planning: 2018
• Scheduled start of construction: 2020
• Scheduled completion: 2025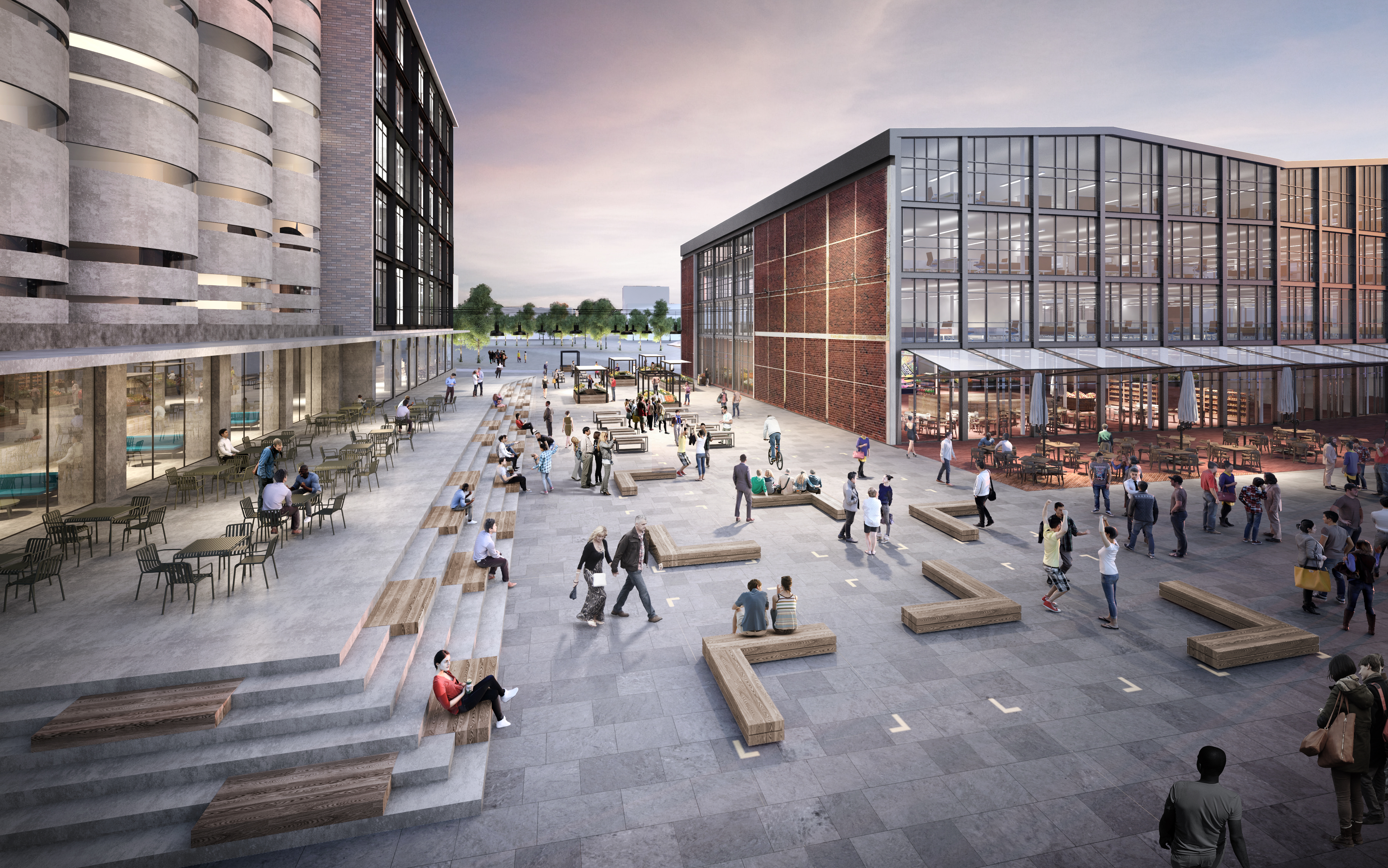 © Delugan Meissl Associated Architects
The building work on the Überseeinsel is yet to fully take off, but the new district has already welcomed one of its first tenants: the Gemüsewerft. This urban gardening project is run by the Society for Inclusive Employment (GiB), and the plants are cultivated by people with mental illnesses.

• Plot: 2,000 m2 by the River Weser
• Urban green space
• Hop garden with beer made from own hops
• Sale of fruits, vegetables and herbs picked straight from the flowerbeds
• Bookings taken for cultural events, company parties and other occasions
• Scheduled opening: April 2020, open five days a week
• Regular food menu (seasonal, regional and organic!): as of 2021
• Food mostly sourced from the yard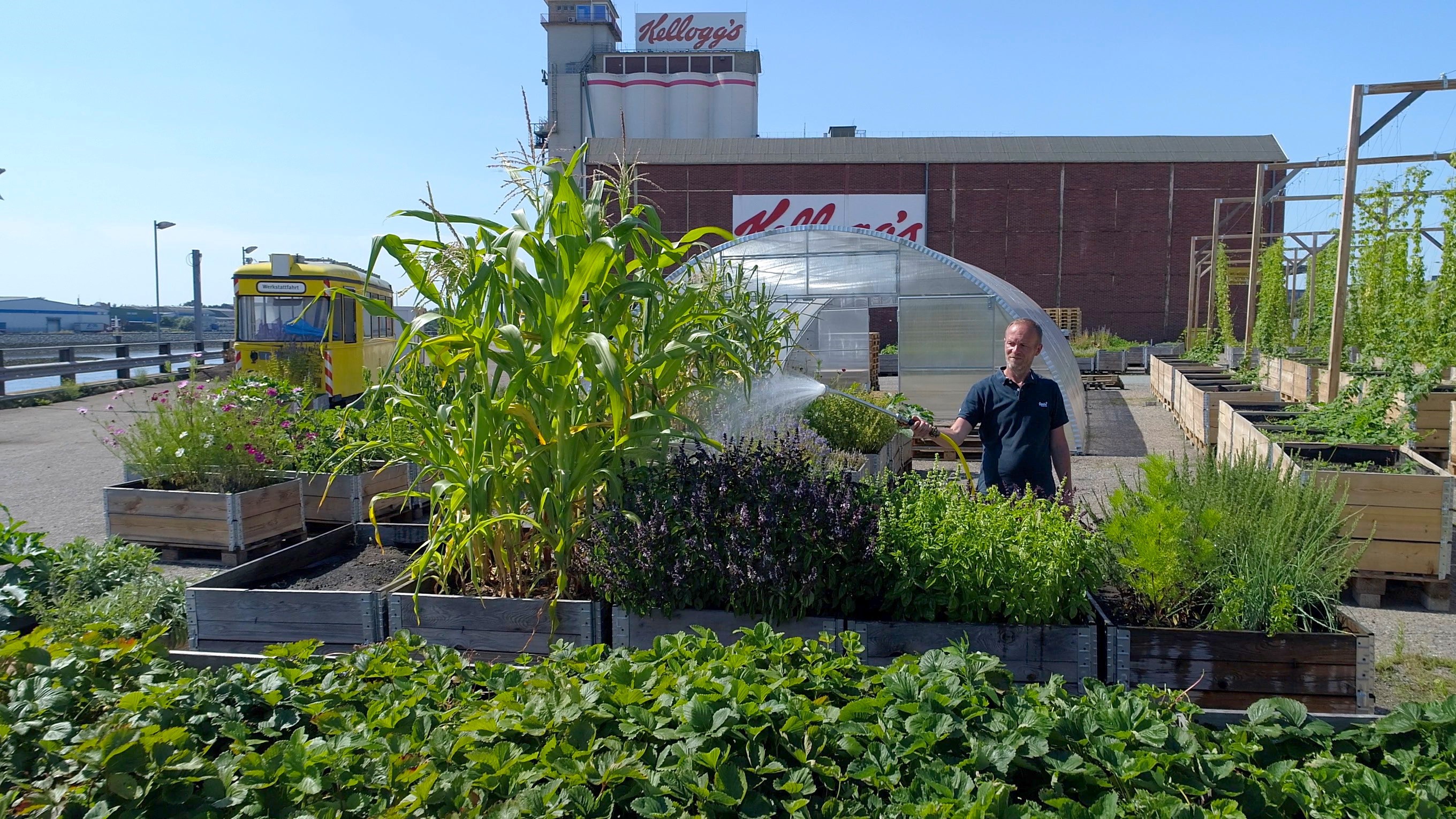 Caption
The tarmac jungle of the former Kellogg's car park is in full bloom – fruits, vegetables, herbs and hops are growing in 450 raised beds. The urban gardening project is run by the Society for Inclusive Employment (GiB) and its managing director, Michael Scheer, who even waters some of the plants himself.© WFB / Determann